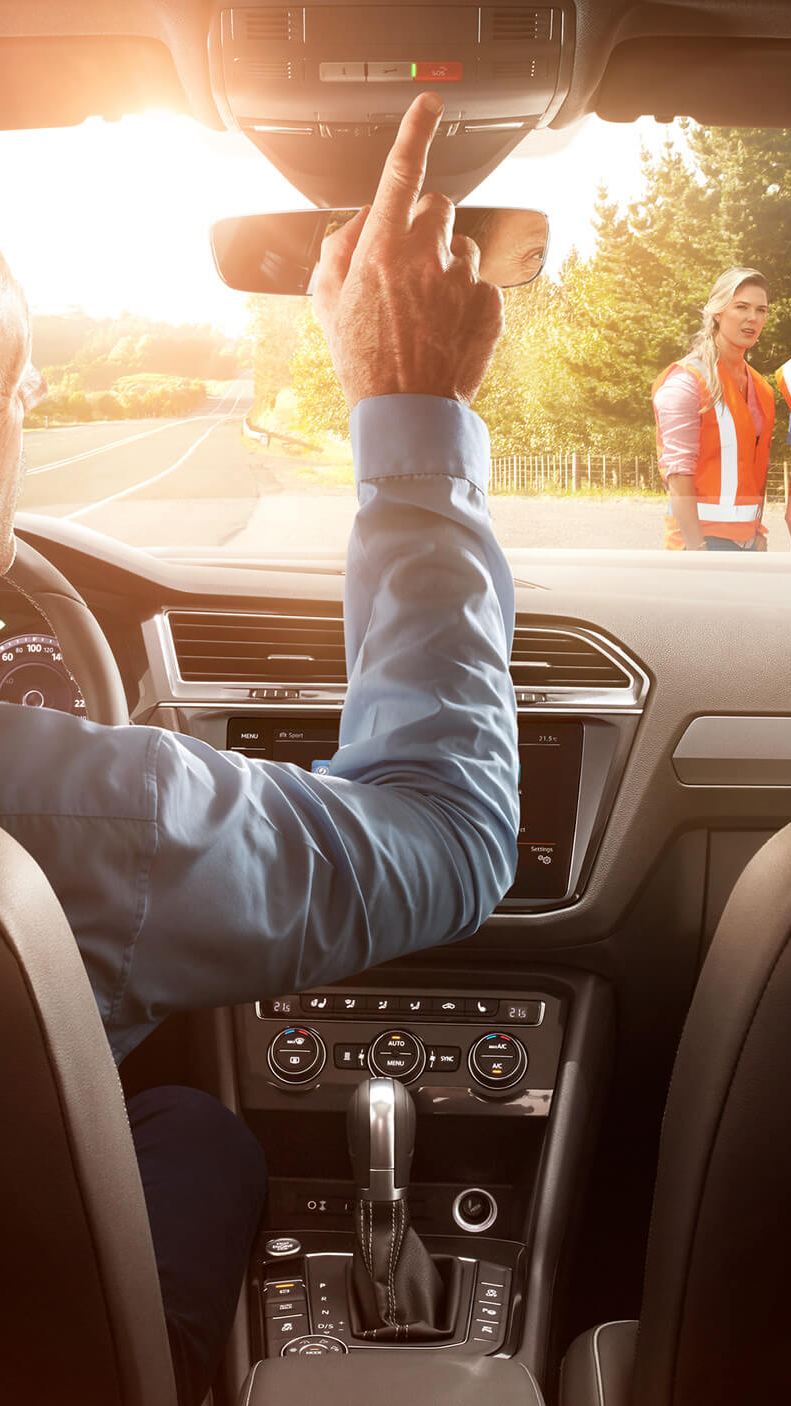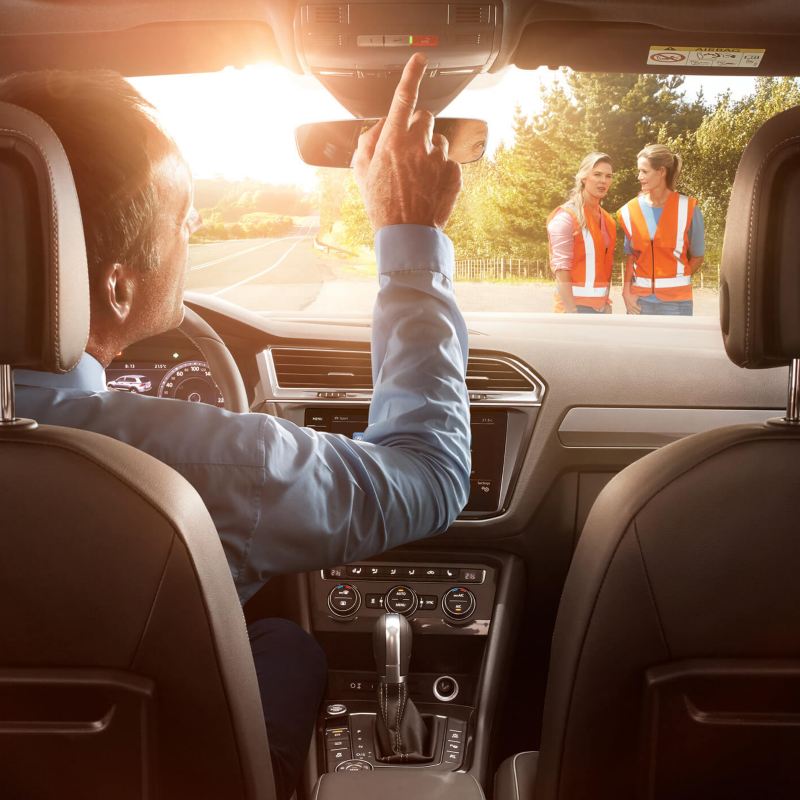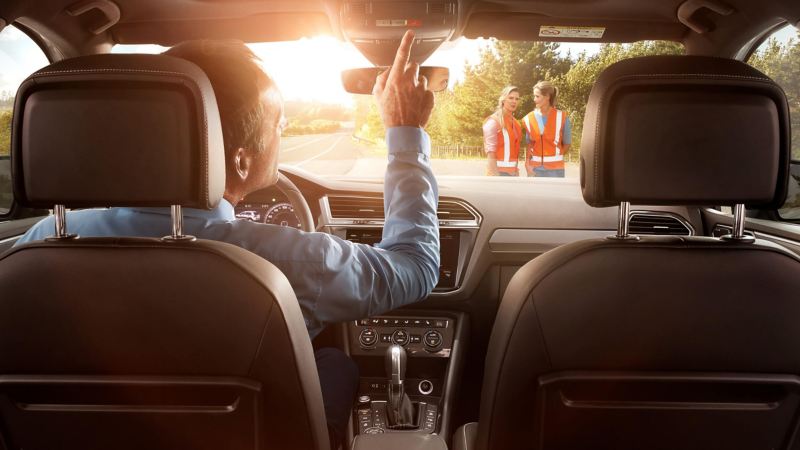 We Connect Security and

Service
Previously known as Security &

Service
We Connect, previously known as Security & Service, features functions that will make your journey even safer. The service package offers you mobile access to important vehicle functions and combines security with transparency for even more comfort. Whether for Service Scheduling, Automatic Accident Notification, Breakdown Call or the Online Anti-Theft Alarm, you can call up support in every situation and they will provide you with all the key information you need regarding your mobility.
The availability of the individual services may differ between countries and depends on the vehicle and equipment. You can find more information in the WeConnect app, at www.volkswagen.co.uk/myvolkswagen, model brochures and from your Volkswagen Retailer.
Emergency Call
Service

features

With the Emergency Call Service you are covered in the event of a serious incident. In emergency situations, your vehicle calls for help automatically or you can press a button to do so. If your Volkswagen detects an accident, the Service connects to the Volkswagen Emergency Call Centre and passes on key information. The Emergency call Centre will deploy the emergency services if required.
Basic features
Vehicle Health Report
Before you drive, you can get information about the current status of the vehicle. The Vehicle Health Report can be created manually or automatically and displays any existing warning messages and service events due.
Service Scheduling
Volkswagen takes care of everything else so you can experience maximum enjoyment at the wheel. When a service appointment is due, your Volkswagen communicates the data to your preferred Volkswagen Retailer or Authorised Repairer. You will then be contacted by them to agree a convenient appointment.
Breakdown Call
In the event of a breakdown, we get to your location quickly. Simply by pressing a button you can call for breakdown assistance from your vehicle which will send your location and vehicle information to the Volkswagen Roadside Assistance service. A member of staff will then help you to identify the cause of the breakdown or will dispatch a service vehicle to you if the problem cannot be solved immediately.
Automatic Accident Notification
Your Volkswagen now makes sure that you stay safe. When the crash sensor detects a slight accident, this service offers you support. If the Service is activated, your vehicle data will be transmitted following your confirmation, and a Call Centre agent will speak with you to determine the next steps.
Additional features
Parking Position
Forgotten where you've parked your Volkswagen? With the Parking Position service, you just have to touch your smartphone display and it'll tell you where your car's parked. And the quickest way to get to it, if needs be.
Driving Data
Your personal driving data at a glance: see your average speed and journey time so far or how much energy you consume on average to help you optimise your consumption.
Vehicle Status
See a clearly laid-out overview of all important data about your vehicle – wherever you are. Use your smartphone to make sure you know the remaining driving range or the current mileage.
Doors and Lights
If you have the nasty feeling that you've left the doors unlocked or the lights on, simply use the doors and lights feature. It will give you the reassurance you need by letting you know.
Area Alert
The Area Alert Service keeps you in the picture. You get automatic notifications when your vehicle is driven in or leaves certain areas at specified times. You can establish, activate and deactivate up to ten areas for dynamic validity periods on the web portal or via the app.
Speed Alert
With the "Speed Alert" service, you can activate selected speed limits which the driver of your vehicle should follow. You are automatically notified if the defined speed is exceeded.
Horn & Turn Signals
The horn and hazard warning lights can be remotely controlled via the We Connect app with the Horn & Turn Signals Service.
Online Anti-Theft Alarm
Sit back and relax – your Volkswagen can look after itself. If an attempt is made to break into the car, you will be notified by the We Connect app on your smartphone or by email, and informed of the circumstances of the incident.